Above: Sales Associates Digna Loy and Nenita Hunter working the raffle table at Tutiakoff Park
This past 4th of July, OptimERA held our second annual fundraiser benefitting the Disabled American Veterans Association of Alaska. The DAV is an incredible nonprofit program that helps more than one million veterans every year. They provide assistance and aid with healthcare, disabilities, employment, education, family assistance, and more.
The Alaska Chapter 7 is no different in its ability in helping and assisting the Veterans of Alaska, and is one of few states that services their entire state of Veterans from one main office, located in Anchorage. Based on the percentage of the states population to the number of Veterans in the state, Alaska is ranked at the top of the list and accounts for almost 10% of total states population. The DAV is the leading nonprofit charity for the Veterans in the US, and being able to help our Veterans in any way we can is very important to us.
Last year, July 2021, our first year hosting this Fundraiser, we were able to raise $1,580. This year we were lucky to have local companies team up with us and donate incredible prizes including Trident Seafoods Sockeye Salmon, a Garmin inReach location device from LifeMed Alaska, Gift Cards and SWAG from Unisea Inc as well as Offshore Systems Inc. The community turnout was amazing and we doubled the amount raised this year, resulting in a total of $3,352 donated.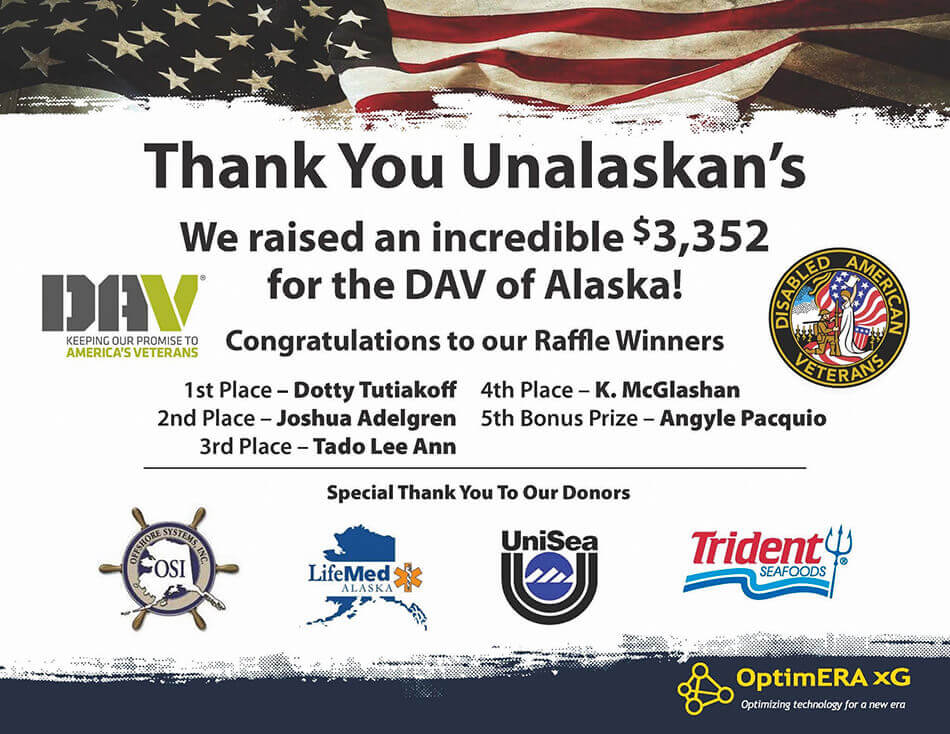 Fundraising and supporting our local community is something OptimERA has always put at the forefront of what we do. Commitment and dedication to our community and customers is at the core of our company culture, and we're always eager and willing to step up and help out in any way we can. We look forward to raising more money in the years to come for local non-profits and programs, and are grateful to all the other companies who have joined our efforts. Thank you again to everyone who donated as well as a special thank you to Offshore Systems Inc, Trident Seafoods, Unisea Inc, and LifeMed Alaska.
Congratulations to all of the winners and thank you to everyone that participated!