Alaska Tribal Network
A decentralized ownership model for rural communications
OptimERA was recruited by Alaska Tribal Spectrum to develop a plan that would address the challenges Alaskan tribes face with access to affordable quality internet service.  Our answer is the Alaska Tribal Network, a decentralized network, built to last, that can deliver broadband internet as well as mobile LTE service. A network that will leverage the Tribal 2.5GHz spectrum and create both a revenue source for tribes and a path to network sovereignty at the same time.
Local ownership is the best way for rural communities to get the access they need; this is why rural WISP's have made the most progress out of any operator at serving rural areas. Being a small rural operator is hard because telecom is a big business. By bringing together tribes under the Alaska Tribal Network, tribes gain the abilities of a larger entity but retain the local representation that's needed to ensure they have a say and so that local interests become the priority.
For all of us to succeed we need everyone at the table: tribes, rural providers, rural communities, and government bodies at all levels, local, regional, and national. We want to help create local representation and local ownership. We can build the Alaska Tribal Network together as a team.
OptimERA is a company that has already done what many want to do, we can share knowledge and reduce development time. We have a network that can be replicated and expanded and we want to share this platform with anyone who believes in this vision. With our platform, you get fixed wireless as well as mobile phone service. We have a team of people that can lend a hand and have a die-hard attitude for making a difference. OptimERA is working at all levels to make this vision a reality and make connections easier for all.
Most recently we helped the Alaska Tribal Spectrum organization file an application on behalf of their member tribes to help launch the Alaska Tribal Network. If their application is successful, it will be the first step to creating a new way of delivering access to remote areas of Alaska.
ATS is spearheading the launch of the Alaska Tribal Network, but it is not limited to the ATS, all tribes and all networks can join. The Alaska Tribal Network is about prioritizing access and ensuring that the community's best interests are center stage.
Together we can address the challenges of providing service in rural communities and fill in the digital divide. If you are interested in working with us to fix the digital divide in your community, please contact us so we can start today. In the Alaska Tribal Network, everyone has a seat at the table, because that's what it's going to take to fix this problem.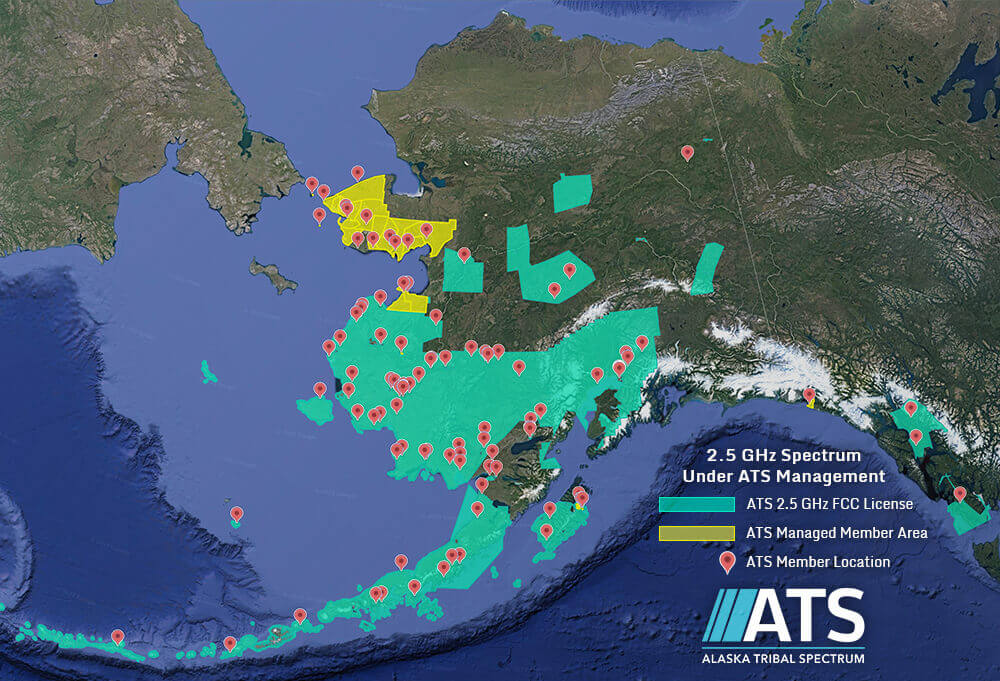 March 16, 2022
FCC Awards Alaska Tribal Spectrum (ATS) with essential building block to establish the Alaska Tribal Network in 103 Alaska Native Communities
Read more, including a press release from ATS: